On September 25, Jennifer Lawrence attended the 2018 Concordia Annual Summit – Day 2 in New York City and she had a lot to say about her absence.
Lawrence is taking a year off acting, as she announced in March. In that time she's been working with Represent.Us, a bipartisan effort to pass anti-corruption legislation at a state level that also calls Adam McKay and David O. Russellboard members.  And that's what brought her here, to this expansive hotel in Midtown Manhattan, where discussions of fair-labor supply chains and PowerPoints titled "Us vs. Them: The Failure of Globalism" ruled the day.
"It could have been age, it could have been the election," she told CBS's Gayle King,the interviewer on hand, who asked what inspired her to take her leave. "Two years ago was when the passion for politics really started growing, and the more I was educated and educated myself, I realized the most important thing that a political movement can have is support from the right and left." Their chat followed a TED Talk–like PowerPoint of her own, along with Josh Lynn, the managing director and co-founder of Represent.Us, that laid out a plan for how to combat widespread corruption in Washington via lobbies and dark money.
"The beautiful thing about having Jen involved is this is an issue that tends to be a little boring," Lynn told King. "People don't wake up in the morning over breakfast and discuss like, 'What's happening with American democracy today?' They're much more concerned about being able to afford groceries or whatever the environmental crisis might be." Lynn said he knew it would take "big megaphones" to allow Represent.Us to thrive, which is where the Oscar-winning likes of O'Russell, McKay, and Lawrence came in.
"Corruption doesn't wear a political label and the American people know that," Lawrence said at the summit. "Everybody expects more from their parties no matter the politician or the specific party." Wearing a D.C.-chic uniform—blazer, white button-down—and using the deft slide skills of a professional corporate speaker, she seemed perfectly at home in her new political milieu. But there were also moments where the human slipped through. "I think my whole mind went blank, I knew this was going to happen," she said, losing the thread of her talking point. "No, it's O.K. I have horrible stage fright."
After King pointed out that she's Jennifer Lawrence, she pointed out, "I don't work onstage! I don't know why everyone says that! It's so different!"
Many screen actors spend their sabbaticals on a stage. Lawrence has too; it's just a political one.
Check out the photos below.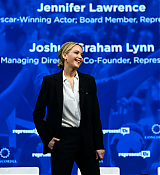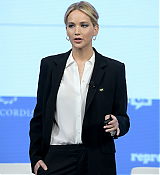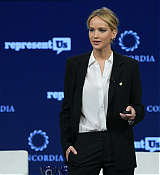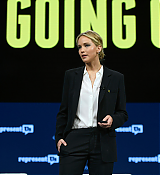 Gallery Links:
– 
Public Appearances > 2018 > Sep 25 │2018 Concordia Annual Summit – Day 2 in New York City